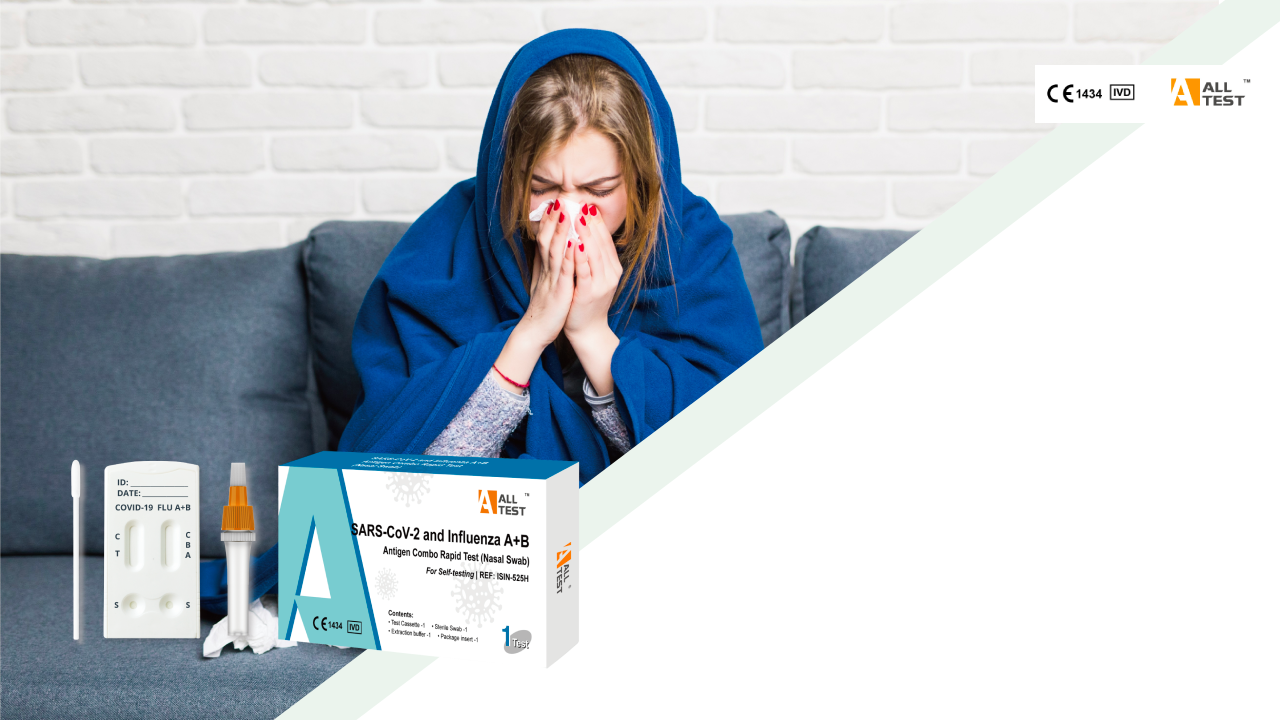 SARS-CoV-2 and Influenza A+B
Antigen Combo Rapid Test (Nasal Swab)
1 Test for 3 Viruses, Reliable results, Correct treatment!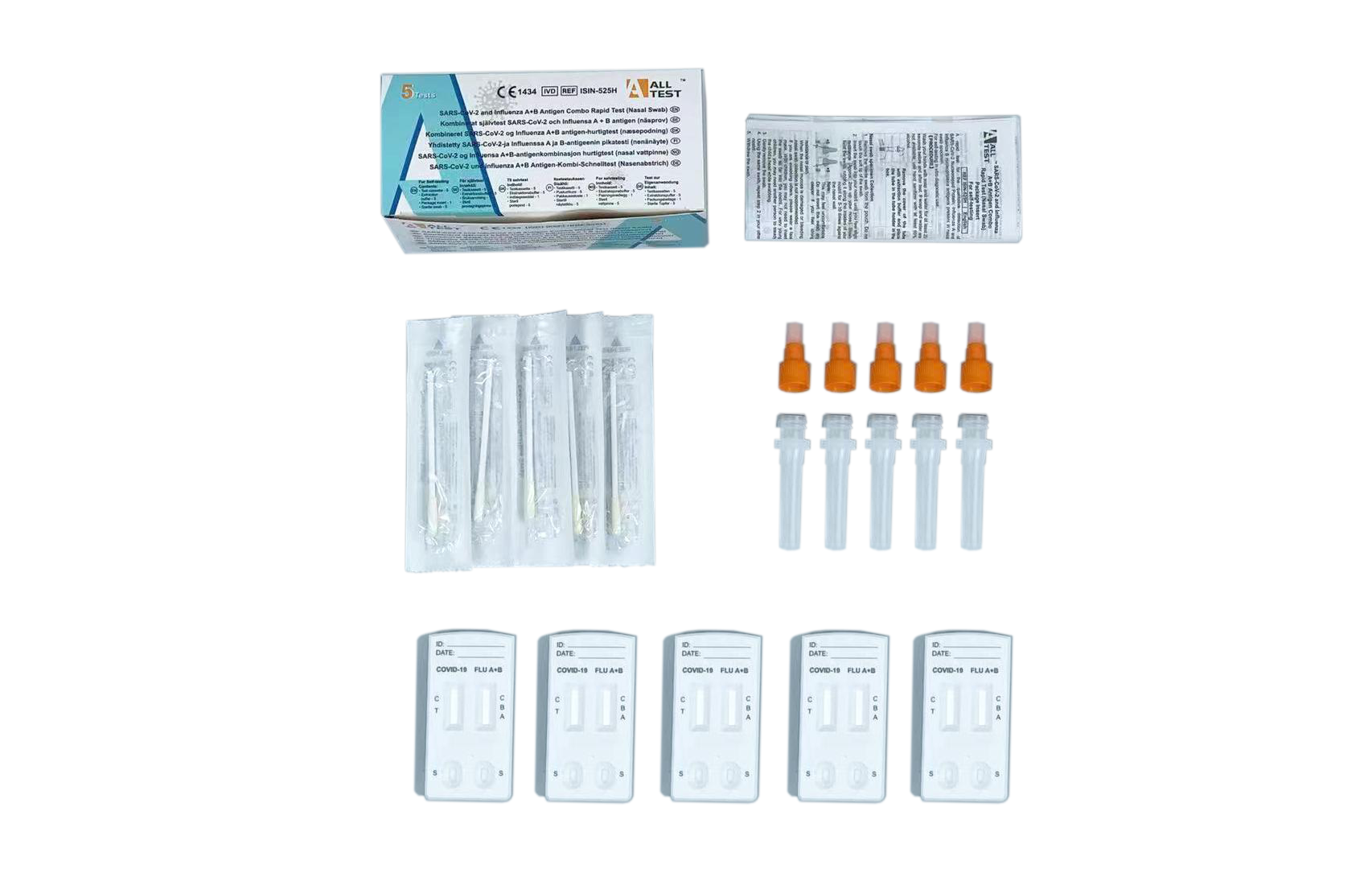 ALLTEST SARS-Cov-2 & influenza A+B Antigen Combo Rapid Test (Nasal Swab) is a single-use test kit intended to detect the SARS-CoV-2, Influenza A and Influenza B virus that causes COVID-19 and/or Influenza with self-collected nasal swab specimen. 
The test is intended for use in symptomatic / asymptomatic individuals who are suspected of being infected with COVID-19 and/or Influenza A+B.
SARS-CoV-2 and Influenza A+B
Antigen Combo Rapid Test (Nasal Swab)
Gives you a quick reliable answer and help you to take the right treatment decisions in time!
Intended Use: Detection of SARS-CoV-2 Nucleocapsid Protein Antigen; Influenza A and Influenza B nucleoproteins antigens in human nasal swab specimen.
Storage Temperature: 2 – 30°C
Specimen Type: Nasal specimen
Shelf Life: 24 Months
Time to Obtain Result: 10 Mins
SARS-CoV-2:

Sentitivity: 96.99%
Specificity: 99.59%
Accuracy: 98.92%

Flu A:

Sentitivity: 95.77%
Specificity: 99.59%
Accuracy: 99.1%

Flu B:

Sentitivity: 94.12%
Specificity: 99.41%
Accuracy: 98.92%



99% Accuracy for SARS-CoV-2, Flu A & Flu B.


Only one nasal swab test
(one strip and one sample
are needed).
Detect all SARS-Cov-2 variants.
Is it Covid-19, Flu or just a cold? Why you need a quick reliable answer?
If you have a cough, fever, and shortness of breath, your first thought might be that you have Covid-19. But these are also signs of the flu.
Why we need to diffentiate?
Experts predict that COVID-19 and flu are likely to co-circulate. Clinical risks and outcomes associated are different. Plus, co-infection of Covid-19 and flu are not uncommon. Treatment need to be different.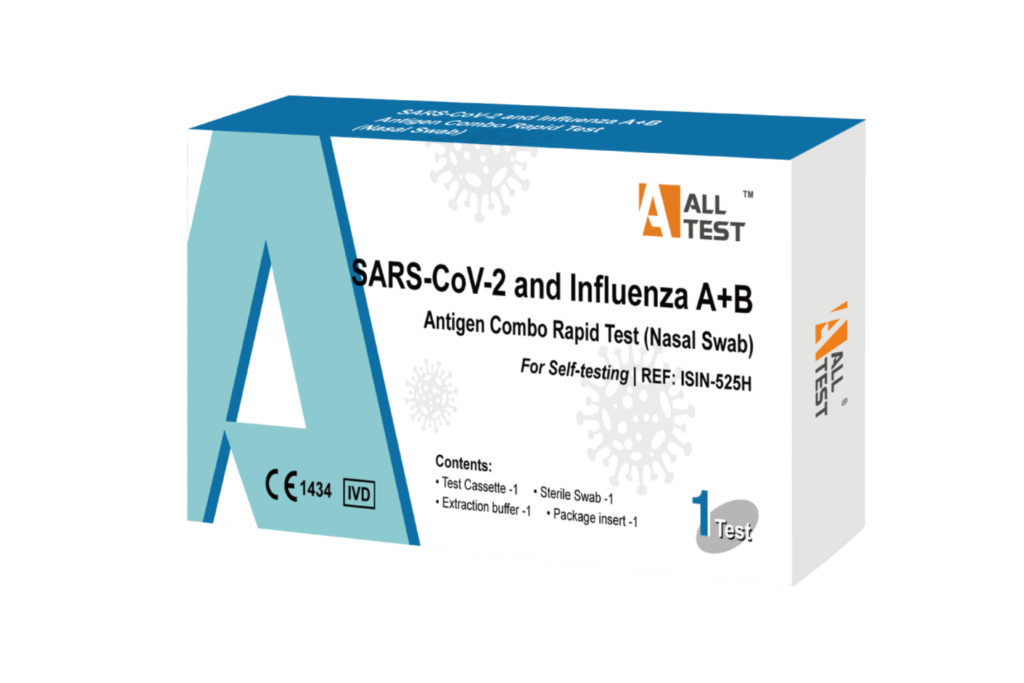 Nasal swab specimen Collection
Insert the swab into your nostril until you feel slight resistance (Approx. 2cm up your nose).
Slowly twist the swab, rubbing it along the insides of your nostril for 5-10 times against the nasal wall.
Repeat same procedure in your other nostril.
Place the swab into the extraction tube, ensure it is touching the bottom and stir the swab to mix well. Press the swab head against to the tube and rotate the swab for 10-15 seconds.
Remove the swab while squeezing the swab head against the inside of the extraction tube.
Close the cap or fit the tube tip onto the tube.
Place the test cassette on a flat and level surface.
Invert the specimen extraction tube and add 3 drops of extracted specimen to each sample well(S) of the test cassette.
Read the result at 10 minutes.
Do not read the result after 20 minutes.
Buy test through our partners: